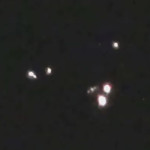 OLIVE BRANCH, MS (WMC) -
As winter weather was being dumped across most of North Mississippi, one woman says she saw much more than just snow — Angela Ashton is convinced she saw a UFO.
Ashton, who is a certified Paranormal Investigator with Cryptic Shadows Paranormal Research, is certain that the object she saw in the sky was extra terrestrial. When she saw the object just after midnight on Thursday, she ran outside to record it.
For full story and video visit
here
.